Concept 40

Living things share common genes.



Mike Wigler and his group were among the first to clone and characterize human oncogenes. Mike Bishop and Harold Varmus worked out how retroviruses transform normal cells to cancerous ones.

John Michael Bishop (1936-)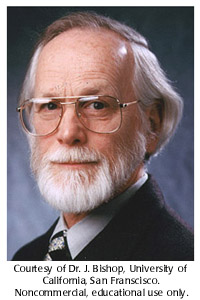 Perhaps one of the misconceptions about Nobel Prize-winning scientists is that they emerge from the womb ready to peer under a microscope and discover the secrets of life. Not so for J. Michael Bishop whose first passion was music. Bishop learned to sing and play the piano in the two small country churches his father ministered in York, Pennsylvania.
Bishop's second passion was history, sparked by an engaging teacher in his two-room schoolhouse. He did well in school, but did not encounter science until high school when he befriended the local doctor. The doctor took him to see patients and witness surgery, so Bishop decided to prepare for medical school when he entered Gettysburg College in 1953.
Though he graduated from college with a degree in chemistry, other subjects tried to pull Bishop away from medical school. History, philosophy, and writing all had their chances, but the only thing Bishop felt strongly about was pursuing an academic career, even though he wasn't sure what subject he wanted to teach. With that in mind, his college advisors steered him to Harvard Medical School.
Boston's supply of symphonies and art museums provided enough distractions for a small-town boy in his first experience in urban living. Medical school, however, was not the teacher-training haven he expected. Instead, it became clear that the path to an academic career led through research, not teaching, and Bishop had no research experience. He sought summer employment in a neurobiology lab, but was rejected.
Two pathologists at Massachusetts General Hospital rescued Bishop and introduced him to research. By his third year, he was drawn to animal virology, partly because the field was still open to newcomers, and he moved to another lab. There he "learned the inebriation of research, the practice of rigor, and the art of disappointment."
Further training through the National Institute of Health's Research Associate Training Program solidified Bishop's research skills, and he published his first papers on the replication of the polio virus. In 1968, he accepted a faculty position at the University of California, San Francisco, where he began working on the replication of retroviruses.
In 1970, Harold Varmus joined the lab as a post-doc and changed Bishop's life. Together, they decided to solve the mystery of how the Avian (or Rous) Sarcoma Virus transformed normal cells into cancers. The research revolutionized people's thinking about cancer — they now realized that the cell's own genes were responsible — and it garnered the two the Nobel Prize in Physiology or Medicine in 1989.
Though best known for his research, Bishop is a popular teacher at UCSF and has twice won the school's Excellence in Teaching award. In addition, he worked on the university's outreach program to promote science education in public schools. He says, "Science is the transcendant cultural force of our time. No one can consider themself in tune without time or our future without a general knowledge of science. It is also the primer approach to discovery and learning, so its principles can be useful to almost anyone."
From 1998 to 2009, J. Michael Bishop was Chancellor of UCSF, and maintains a research lab there. He lives in San Francisco, California with his wife, Kathryn Ione Putman. They have two sons, Dylan Michael Dwight and Eliot John Putnam. If reincarnated, Dr. Bishop wishes to become an exceptionally talented musician in a string quartet.


Mike Wigler dropped out of college for a semester to regroup at his parents' house before deciding to become a scientist.

Yeast have about 6,000 genes; humans have about 40,000. Where did we get the other genes?