Concept 38

Development balances cell growth and death.




Lee Hartwell was one of the first to use yeast as a model system, and he identified many of the genes involved in the cell cycle. Bob Horvitz and Mike Hengartner used C. elegans to work out the mechanism of programmed cell death. Scott Lowe's research has shown how the regulation of the cell cycle affect cancer.

Scott William Lowe (1963-)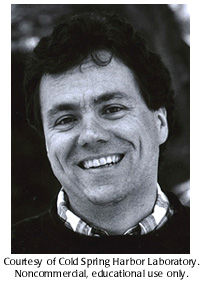 Scott Lowe was born in Racine, Wisconsin. Although he was good at science and took most of the courses in high school, he never was very interested in science. He actually thought he would become a lawyer.
In 1982, Lowe started at the University of Wisconsin-Madison in chemical engineering. He thought that chemical engineering had something to do with chemicals and engineering (math). He quickly found out that it wasn't the field for him, and decided to take some general courses to figure out what he did want to do. Lowe really became interested in biology and molecular genetics through his undergraduate biochemistry and genetics courses. As an undergraduate project, he went to work in a research lab, and after graduation stayed in the lab for two more years as a technician.
In 1988, Lowe went to the Department of Biology at the Massachusetts Institute of Technology to start his graduate work. Coincidentally, Michael Hengartner started graduate school on the same day in the same department. Little did Lowe know at the time, but his interest in oncogenes would one day overlap with Hengartner's interest in cell death genes.
After his Ph.D., Lowe stayed at MIT for post-doctorate work and began studying the effects a known tumor suppressor, p53, on cell growth. He found that in radiation-damaged cells, p53 is needed for programmed cell death. Connecting programmed cell death with tumor cell growth gave new insight as to how cancer cells proliferate.
In 1994, Lowe joined Cold Spring Harbor Laboratory (CSHL), where he is still adjunct professor at the Watson School of Biological Sciences at CSHL. Lowe's lab continued to work on the p53 pathway and the effects cell death genes have on the growth, proliferation and repair of tumor cells. Lowe moved to the Memorial Sloan-Kettering Cancer Center in 2011.
Lowe spends most of his free time with his family, especially his two children. He also likes to hike and camp and skiing is his favorite sport.


The cells that don't undergo programmed cell death in C. elegans often share the same cell fate as their sisters. The extra cells don't seem to have any detrimental effects.

The "extra" cells in C. elegans mutants that don't undergo programmed cell death are often nerve cells. Are these worms smarter?